After AZSA's November Networking Breakfast at CO+HOOTS, I decided to treat myself to a tour of the Taj Mahal – of storage, that is. Right down the street was StorQuest's brand spanking new self-storage facility on 7th Street in Phoenix. 
"Glam storage" is a good description of this beautiful new store! The hallways are bright and clean, which appeals to customers who don't like "dark, scary looking" self-storage hallways, according to consumer focus groups. The doors open easily, the floors are clean, the show units are ready to show off. It smells good, looks good, even sounds good!
Impressively, this store is already over 90% occupied, only 16 months after its grand opening. That is successful sales and management!
But do you know what was best of all?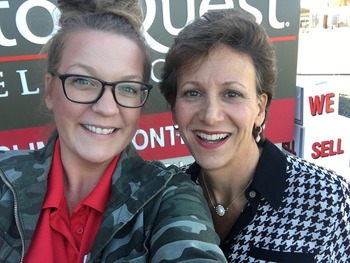 What you see in this picture! When I walked in, Manager Shawna Morris smiled, stood up, and shook my hand. Yes, that was definitely the best thing of all. And it is something any store, of any age, in any condition, in any location can accomplish. It's called management and customer service. I am pleased to congratulate Jennifer Curtis, Tammy Springsteen, Shawna, and the whole StorQuest team for training your staff to be nice! It goes a long way! 
Five shiny new roll up doors for StorQuest on 7th Street! 
Continue reading this article here https://associationdatabase.com